The sleeper hits game thread
Started by
mollipen
,
Nov 02 2004 08:30 AM
Posted 22 May 2005 - 10:15 PM
OMG!
Twinkle Star Sprites PS2 might actually be coming to the US!!
---
Posted 22 May 2005 - 11:41 PM
Twinkle Star. Dirtiest game ever. (swiped from zanyvgquotes and re-arranged for dirtifying purposes)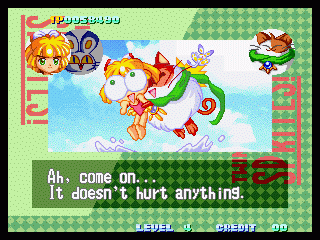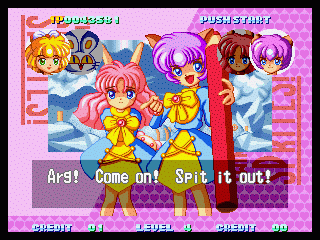 dream to be a duck

remember
Jenn Rose
Mode7
lalala
Jody Gabriel
---
Posted 22 May 2005 - 11:41 PM
Later that day...
dream to be a duck

remember
Jenn Rose
Mode7
lalala
Jody Gabriel
---
Posted 30 June 2005 - 03:01 AM
Since Working Designs kind of dissappeared, Atlus seems to be pulling the not likely to be noticed rpg wagon by itself. After Digi Devil Saga and Stella Deus managed to go selling all of three copies between the two, Atlus has raised enough money selling drugs to release another rpg that no one will buy.
Riviera-The Promised Land is likely to be the most bizarre and unfriendly rpg released until Romancing SaGa hits later year. Those who give it a little time will warm up to it, but due to its Unlimited Saga-like distillation and denseness it isn't going to be loved by most.
It starts out innocent enough, with a thousand year battle and beautiful character art, but quickly slams the player with difficult choices and brutal battles.
As in Unlimited Saga, exploration is limited to moving room to room with an option to search objects in the room. Making things more difficult, the player is only given a limited amount of points required to examine anything. Run out and you have to wait until the next battle so that you can earn more. Miss even a crack and you could be missing an important item that'll help you later on.
The battles themselves will chase most players away. Like in most of the SaGa series, even weapon use is limited. Once you've used a weapon up, it breaks and is gone forever. Since certain skills and raising stats can only be raised by reusing weapons a good deal of thought needs to be put into who will use a weapon. Later a practice mode opens in which weapons never break, but patience is needed to raise skills.
Despite the tough face Riviera becomes rewarding with the challenge. The characters are charming and well developed and the graphics, though mostly static are beautiful. Finding the secrets is well worth the effort as every item is helpful and the effort needed to think out battles makes them rewarding instead of tedious.
Despite having quite a bit going against its success, Riviera is a portable game and can perhaps lean on its pick up and play charms to attract fans.

dream to be a duck

remember
Jenn Rose
Mode7
lalala
Jody Gabriel
---
Posted 07 July 2005 - 01:10 AM
>:( Aww... You guys suck. I thought someone would be interested in the most bestest rpg to come out for GBA evAr.

Anyway... Atelier Iris is another fun game (rpg) developed by Gust, published by NIS America, and distributed by.... ATLUS.
So it seems there have been six rpg's in the Atelier series, which had its start on the Sega Saturn... and it has to do with alchemy and rpg's and jrpg clichés and stuff.
Battles and story are normal rpg boring but the characters and writing are interesting and funny. Besides that, the only thing keeping Iris from being an awful piece of poo is the addictive item combination system. Items are usually just lying about, but some are quite rare and some have to be bought. AND... They're only available occasionally and in limited quantities. Certain stores allow you to combine items into better items which can be combined into more items. Although stores give you recipes the player can change the ingredients slightly for a completely different result. Although items are seldom useful (at least with the way I play) it's a fun and addictive system which provides an otherwise average game with a bit of originality.
The visuals and music are fine but nothing stands out. While it's nice to see a game with 2D graphics there are a few problems. The backgrounds are pretty gorgeous but the character sprites and artwork are simply okay. The animation is where the game really chokes. Megaman 8 and Breath of Fire 4 look better on the PS1. Also, the character designs for girls are really cute but the ones for the males generally suck.
Atelier Iris is nothing great but it is a fine game to send time with... until Digital Devil Saga 2 comes out next month. (pssst... and Makai Kingdom from N1 later this month)

dream to be a duck

remember
Jenn Rose
Mode7
lalala
Jody Gabriel
---
Posted 13 July 2005 - 09:45 PM
I remember covering the first game, Atelier Maria, back in the days of GameFan Online.

I'm getting really interested in Riviera, actually... a lot of people keep saying nice things about it. The whole item usage system sounds a bit odd, but I still might give it a try.

I've been really behind on keeping up on my niche games lately. I do know that Harvest Moon for Girls is coming soon, and We <3 Katamari isn't too far off, I don't think.

---
Posted 22 July 2005 - 10:28 PM
Riviera is da bomb. Any praise it gets is deserved. Those charas are soooo cute. How could you say no to these sweeties?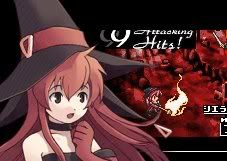 Legend has it even Rose, the kitty turns into a girl if you're a freakin' genius at the game. As it is it's a nice 20 hour chunk of game that could last you much longer if you want to see everything. (20 hours per girl, plus 2 additional endings with Rose) That's a 60 hour game right there... tho i doubt you'll ever want to see those darling faces again if you can suffer through that. Even cake is disgusting if you have too much.
i feel like i was unfair with Atelier Iris. It's a decent game, just not much special, and like i said, the writing's really funny.
[edited pic alignment to keep from breaking the intarweb - beat]
Edited by BEAT, 23 July 2005 - 12:02 AM.
dream to be a duck

remember
Jenn Rose
Mode7
lalala
Jody Gabriel
---
Posted 04 August 2005 - 09:43 PM

B0009WO762.01.LZZZZZZZ.jpg
57.61KB
5 downloads
Title:
Osu! Tatakae! Ouendan!
System:
Nintendo DS
Region:
Japan
Genre:
Music
From the people that made Guitarooman comes Ouendan!, a new music game for the NDS. The basic premise is that you are a three-man "cheer" team, and you go around your city trying to pump up people who are having various problems. You are presented with a map screen, which you can drag around to see the various people who need help. You pick somebody, their story starts, and as you play, how well you do determines how the character deals with their problem.
There are two basics to gameplay. First, the usual thing is a number inside a circle, with a ring that shrinks into the circle. When the ring matches the circle, you have to tap it. If there are multiple circles onscreen at the same time, you have to do them in numeric order. The other thing is a circled number with a track. When you hit the number, a ball will roll along the track, and you have to follow it with the stylus. During play, your life meter is constantly going down, and hitting the points with better timing raises it back up a little. There are two main options, Easy and Hard. There's also a multi-player mode, but I've had no chance to try it out yet. It seems like true multi-player requires multiple carts.
So far, I've finished the game on Easy, and it wasn't always easy. It will be a decent challenge getting As on the songs, and then I sitll have Hard to play through. Even for a music game veterin, this game should be a decent challenge - partially due to the game not being very forgiving when it comes to the timing on hitting the markers. If you're a music game fan, or just looking for something new and interesting for the DS, I'd certainly recommend this.
---
Posted 19 August 2005 - 12:03 AM
Shidoshi, did you ever play Cool Cool Toon for the Dreamcast? It sound really similar. After i'm back on my feet, i'll pick up O!T!O! (cuz i can't type all that out)

dream to be a duck

remember
Jenn Rose
Mode7
lalala
Jody Gabriel
---
Posted 20 August 2005 - 06:05 PM
Just briefly. Not enough to say how similar they are. To me, it is sort of like the idea behind Technic Beat, crossed with that path following of Gitaroo Man.

And Finch, how much press did Riviera get? If it didn't get a lot, would it be worth talking about in the mag?

And any interest in writing a diary of your adventures as a young female farmer trying to make it in the world? *heh*

---
Posted 20 August 2005 - 06:07 PM
By the way, Toys R Us has the first Katamari Damacy for $10 now. If you don't have it yet, then you have no excuse not to own it.

---
Posted 20 August 2005 - 10:52 PM
I bought 3 when it was released. 1 for me and more for friends.

---
Posted 26 August 2005 - 02:22 PM
If this is indeed the cover for the US version, I love it.
---
Posted 26 August 2005 - 03:04 PM
Instant buy!

Man, that was a fun game.

---
Posted 26 August 2005 - 03:16 PM
Yeah... there aren't a lot of games that I buy on the first day, but this will be one of them.

I'm curious about the price, though. The original was $20, because it wasn't an assured hit. Now that the game is a hit, I wonder if they will raise the price for the sequel.

---
---
0 user(s) are reading this topic
0 members, 0 guests, 0 anonymous users